The Gloucester office closed in 1988.
"Babcock Moxey" is now owned & operated by Claudius Peters Ltd, who should be contacted for all enquiries relating to Babcock Moxey business activities.
All images are property of Babcock Moxey.
Other links of interest:
Site updated: 30/12/21



INTRODUCTION

Babcock Moxey (Gloucester) Ltd were designers and suppliers of bulk materials handling systems. The equipment was installed at many of the power plants, mining operations, import terminals and steelworks around the world. In the U.K the company carried out work for the British Steel Corporation, the Central Electricity Generating Board, and the National Coal Board. Thirty years on, much of the kit is still in use today.
The products included:
Conveying systems
Boom stackers
Bucket wheel reclaimers
Bucket wheel stacker-reclaimers
Bridge type reclaimers
Barrel blending reclaimers
Rapid train loading systems
Ship and barge loaders
Continuous ship unloaders
Surface mining systems
Although the company name and offices have long since gone, this web site provides a brief record of the company history and projects that were undertaken at the Gloucester office.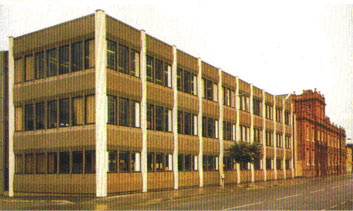 Old offices at Babcock House, Bristol Rd , Gloucester